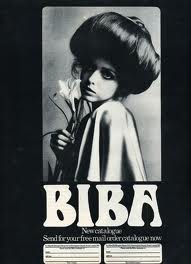 Early years
Biba's early years were rather humble, with many of the outfits being cheap and available to the public by mail order. Biba's postal boutique had its first significant success in May 1964 when it offered a pink gingham dress to readers of the Daily Mirror. The dress had celebrity appeal, as a similar dress had been worn by Brigitte Bardot. By the morning after the dress was advertised in the Daily Mirror, it had received over 4,000 orders. Ultimately, some 17,000 outfits were sold.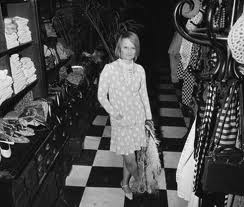 Stores and mail order services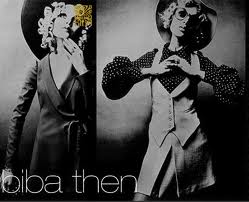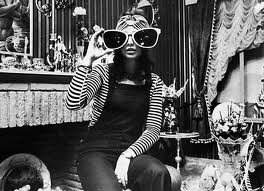 This section does not cite any references or sources. Please help improve this section by adding citations to reliable sources. Unsourced material may be challenged and removed. (May 2011)
The first store, in Abingdon Road in Kensington, was opened in September 1964.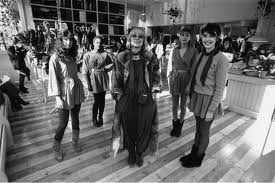 Hulanicki's first encounter with her new customers was at 10 o'clock on the Saturday morning it opened. "...the curtains were drawn across the window… the shop was packed with girls trying on the same brown pinstripe dress in concentrated silence. Not one asked if there were any other styles or sizes," Hulanicki remarked.[citation needed]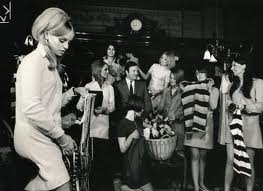 The brown pinstripe dresses were being stored in the shop because Hulanicki's apartment was overflowing with boxes of clothes for their mail order service. Fitz-Simon dropped Hulanicki at the shop and went to pick up more dresses, Hulanicki went to the bathroom and when she came back the shop was packed. "The louder the music played the faster the girls moved and more people appeared in the shop. I had sold every dress by 11."[citation needed] After the last dress had been sold, people were still lining up inside waiting for the next delivery.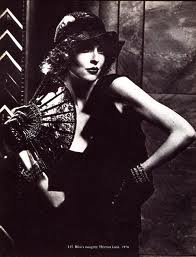 The shops' main appeal was that an average girl in London could, for less than 10% of her weekly earnings, share the look of popular icons of the time such as Cathy McGowan,[citation needed] the 'Queen of The Mods' and presenter of Ready, Steady, Go, a popular TV music show. What was seen on TV on Friday night could now be bought on Saturday and worn that night. It made you feel special. As the Biba style (tight cut skinny sleeves, earthy colours) and logo became more and more recognisable, the more and more people wanted to be seen in it.[citation needed]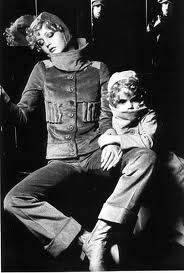 The second store in Kensington Church Street opened in 1965 and series of a mail-order catalogues followed in 1968,[citation needed] which allowed customers to buy Biba style without having to come to London.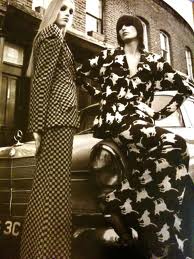 The next move, in 1969, was to Kensington High Street, into a store which previously sold carpet. Again, it was unique; a mix of Art Nouveau decor and Rock and Roll decadence.[citation needed] On May 1, 1971, a bomb was set off inside the store by The Angry Brigade.[citation needed]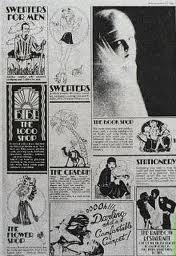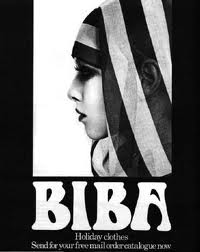 The former "Big Biba" building as it appears today.
In 1974, the store moved to the seven-storey Derry & Toms department store, which immediately attracted up to a million customers weekly, making it one of the most visited tourist attractions in London.[1] There were different departments, and each floor had its own theme, such as a children's floor, a floor for men, a book store, a food market, and a "home" floor which sold items such as wallpaper, paint, cutlery, soft furnishings and even statues. Each department had its own logo or sign, which was based on the Biba logo and had a picture describing the department; these were designed by Kasia Charko.[2] One of the most popular departments was a "Logo Shop" featuring merchandise adorned with the Biba logos and pin-up art, such as playing cards, match books, and coloring books. The store had an Art Deco-interior reminiscent of the Golden Age of Hollywood [3] and non-traditional displays, such as a giant Snoopy and his doghouse in the children's department, where merchandise based on the Peanuts comic strip was sold. The Biba Food Hall was also designed ingeniously, each part being aimed at one particular kind of product; a unit made to look like a dog (based on Hulanicki's own dog, a Great Dane named Othello)[4] consisted of dog food; a huge baked beans tin can consisted of only tins of Baked beans; a can of "Warhol's Condensed Soup" etc., all foods having individual innovative units. Also at the new "Big Biba" was "The Rainbow Restaurant", which was located on the fifth floor of the department store and which was destined to become a major hang-out for rock stars, but which wasn't solely the reserve of the elite. Also at the site was the Kensington Roof Gardens, which are still there today.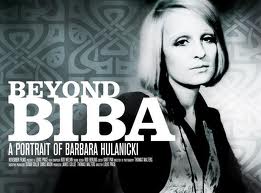 [edit]The look and feel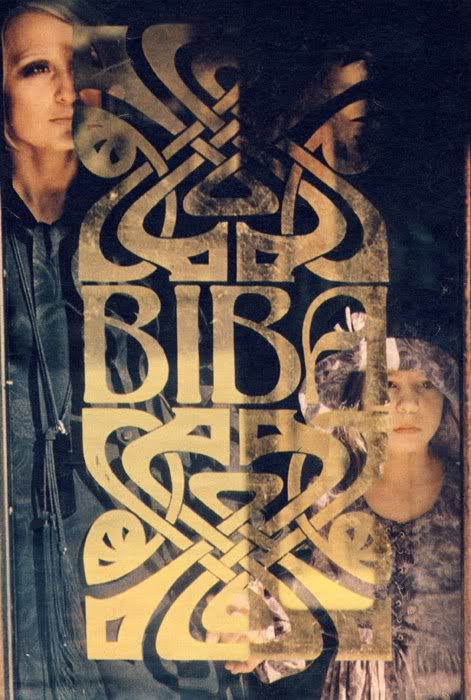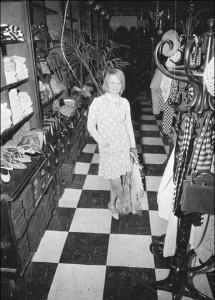 A Biba Makeup stand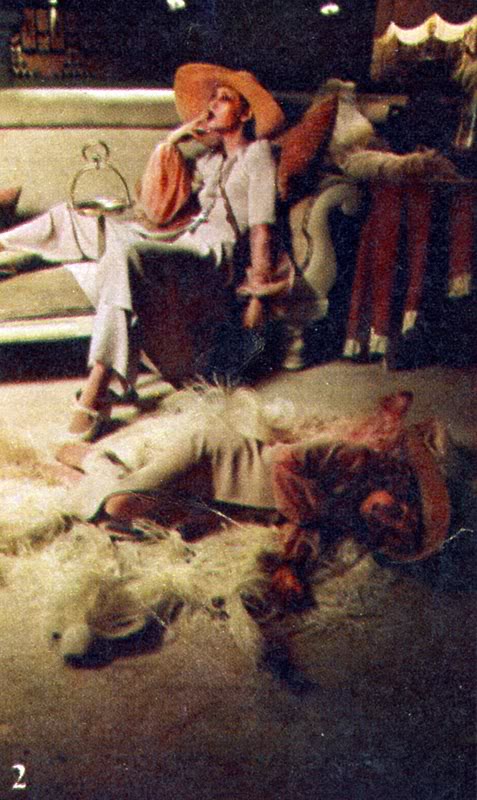 This section does not cite any references or sources. Please help improve this section by adding citations to reliable sources. Unsourced material may be challenged and removed. (May 2011)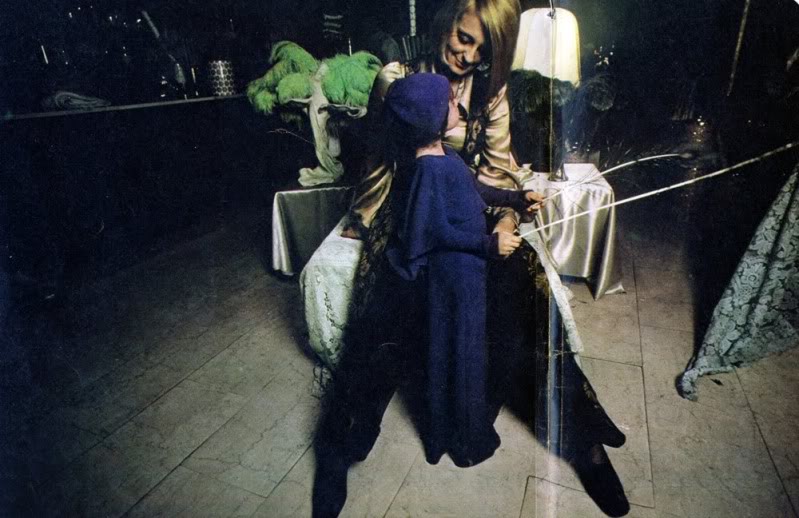 The neutrality of this article is disputed. Please see the discussion on the talk page. Please do not remove this message until the dispute is resolved. (July 2011)
'The Biba Look' or 'Dudu Look' was "fresh little foals with long legs, bright faces and round dolly eyes." Hulanicki describes her customers as "postwar babies who had been deprived of nourishing protein in childhood and grew up into beautiful skinny people: a designer's dream. It didn't take much for them to look outstanding."[citation needed] These women were mostly teenagers or twenty year olds, who wanted to have clothes that looked good on them. All the Biba girls remember how women over thirty years old were considered old in the Biba store, and probably felt isolated as these girls felt in other stores. The employees were from the same demographic; among them at one point was a young Anna Wintour, later editor of Vogue.
The Biba look consisted of what Hulanicki called "Auntie Colours" - blackish mulberries, blueberries, rusts and plums. Hulanicki described them as "look[ing] like a funeral."[citation needed]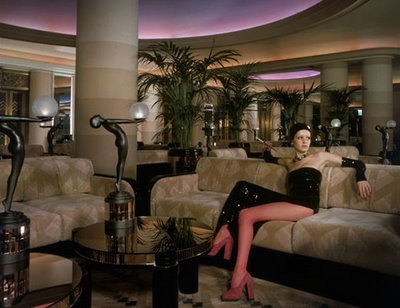 Biba smocks were uncomfortable and itchy, and stopped women's arms from bending - something that did not stop customers from buying the clothes. They became the uniform of the era,[citation needed] with the added bonus of that whatever you bought, you could always get accessories to match. Miniskirts were causing a scene of their own, every week they got shorter. Although Mary Quant was the first British designer to show the mini skirt, Biba was responsible for putting it on the high street and as miniskirts were in fashion, everything needed to be associated with them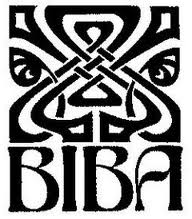 Marketing strategy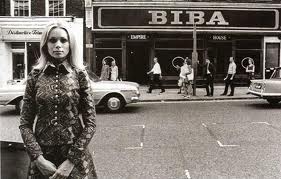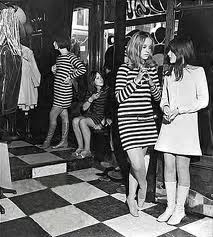 A Biba label c. 1969 shows features the company's trademark black/gold art deco look
This section does not cite any references or sources. Please help improve this section by adding citations to reliable sources. Unsourced material may be challenged and removed. (May 2011)
The Biba logo played a crucial part in Biba's success; the logo was gold and black which reflected the growing taste in youth for art deco.[citation needed] The logo was designed by Antony Little. To create a look for Biba in the first store, Little painted the Biba sign above the shop and blacked out all the windows. The blacked out windows didn't allow the store's interior to receive any sunlight, which was vital for the Biba's art nouveau atmosphere.
The Biba logo was customized in various ways to be appropriate for all the different products. Every product had the Biba logo on it. The labels showing size, color and price all resembled a similar style. Biba was the first to set a standard for brand marketing and the first high street store to create a look for itself. The logo was seen on everything: from clothes to food, to wallpaper.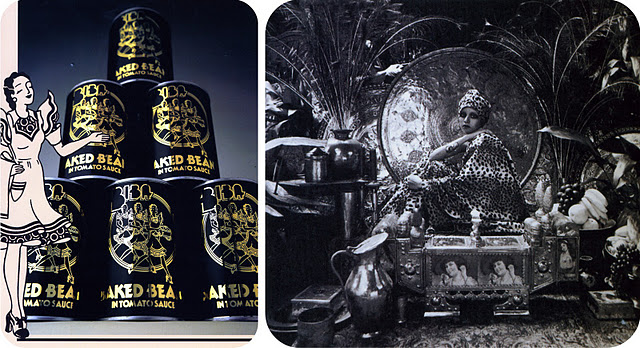 Biba's layout was innovative and was set to enhance the clothes rather than just to hold them. The clothes were also displayed in an unusual manner, from the beginning hanging on coat stands.[citation needed] Since coat stands can not hold a lot of clothes many were needed. Fitz shopped for them all year round, so that he could secure as many as they needed in the store, while ordering hundreds more. Biba was also the first store that let customers try makeup before buying it.[citation needed] This started an unusual routine; women came to Biba before work with no makeup on, put it on in the store and then rushed to work.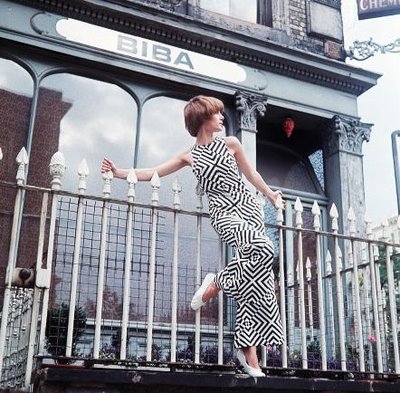 Biba never exhibited anything in shop windows, believing instead that people would be intrigued and seduced to enter the shop by their captivating store interior seen from outside.[citation needed]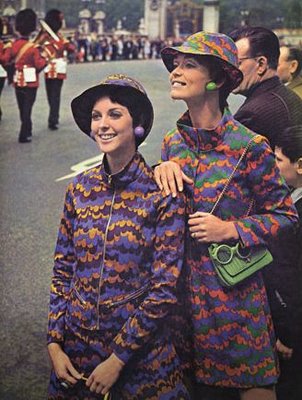 [edit]Demise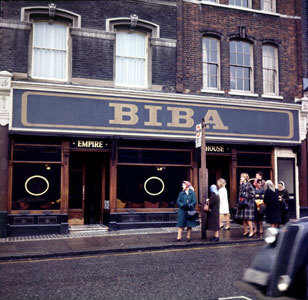 Big Biba was a huge responsibility in terms of expense and organization, but Hulanicki and Fitz felt they needed to "keep moving forward." Because of this massive undertaking, Hulanicki said, "Every time I went into the shop, I was afraid it would be for the last time."[citation needed] No one was aware of how serious the financial difficulties were going to be - and they proved too much for the new entrepreneurs; as a result Dorothy Perkins and Dennis Day came to save the day and bought 75% of Biba. This led to the formation of Biba Ltd, which meant that the brand and the store could now be properly financed.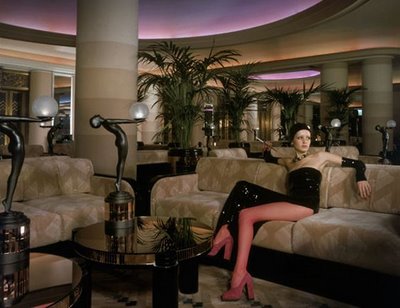 After disagreements with the Board over creative control, Hulanicki left the company and, shortly afterwards in 1975, Biba was closed by the British Land Company. The Dorothy Perkins shareholder decided that the Derry and Toms building that housed Big Biba was worth more than the ailing business itself. It sold the trademark to a consortium with no connection to Barbara Hulanicki, who opened a store in London on 27 November 1978, on two floors in Conduit Street in London's Mayfair. The store was not a success, and closed less than two years later.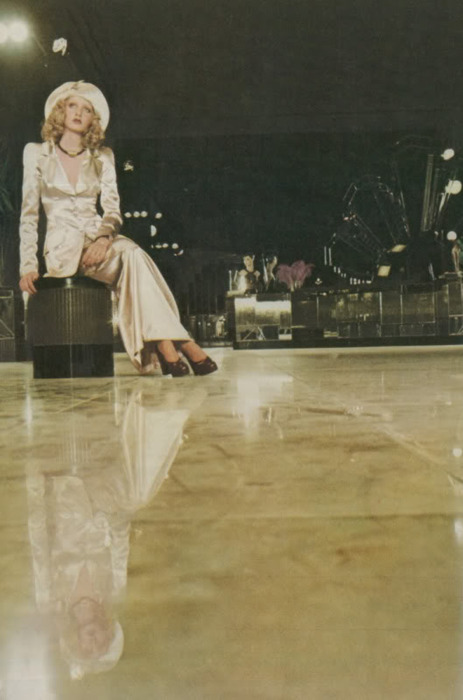 [edit]Relaunches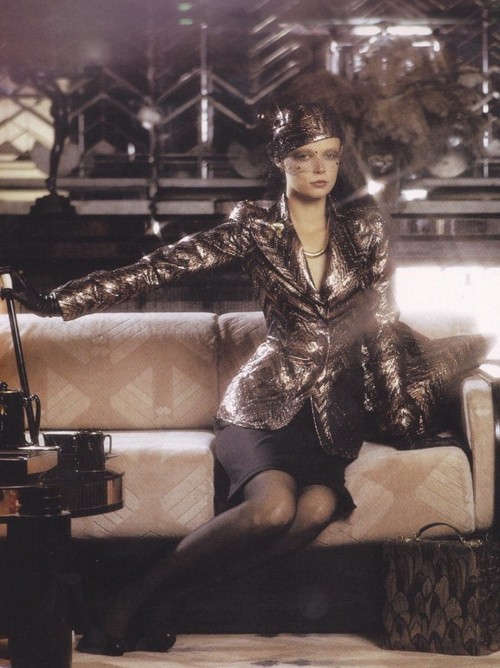 The Biba label had first relaunch in May 2006 under designer Bella Freud. Biba's founder, Barbara Hulanicki, was not contacted for the relaunch and said it was 'very, very painful', believing that the new Biba would 'betray its heritage.'[5] Freuds first collection Spring/Summer 2007 was unveilled at London Fashion Week in September 2006, and was criticised for straying from the original concept of low-priced clothes for teenagers, needing 'more polish',[6] as they 'had a Biba flavour but lacked the retro details that the original Biba designs had.'[7] Freud's second attempt, Autumn/Winter 2007 was also panned as the kind of thing that's already over-available in fast-fashion chains.'[8] Freud left the company after just 2 seasons in June 2007 to relaunch her own label.[9] The Biba relaunch failed and the company went into administration for a second time in 2008.[10]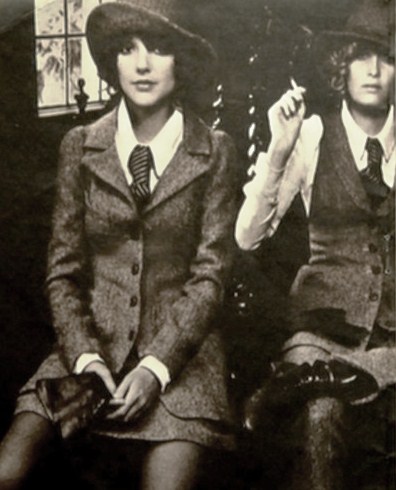 House of Fraser bought the company in November 2009 for a second relaunch by an in-house design team,[11] announcing Daisy Lowe as the new face of the label in an attempt to return to its high-street roots.[12] Hector Castro and a five-strong team were selected to replace Freud[13] with couture hats created by Prudence Millinery.[14] This relaunch was highly successful, outselling House of Fraser's other in-house brands in just two weeks of its launch, boosting its year end sales.[15] Meanwhile, Hulanicki instead designs capsule collections for rival high-street company Top Shop,[16][17] and is once again unhappy with the relaunch, attacking the new Biba as 'too expensive' and 'for failing to reflect the original Biba style'.[18] In retaliation, Hulanicki signed with Asda to produce three to four collections of clothing retailing between £11 and £18.[19]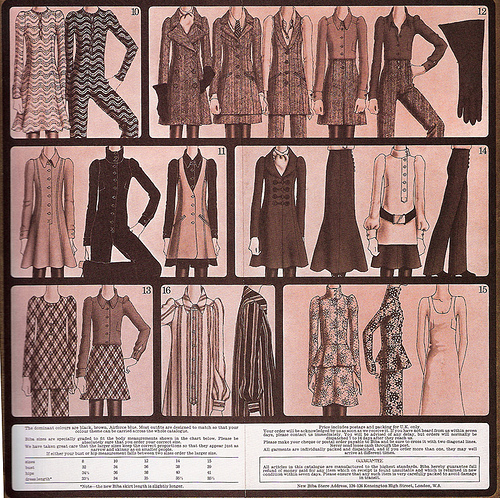 [edit]Legacy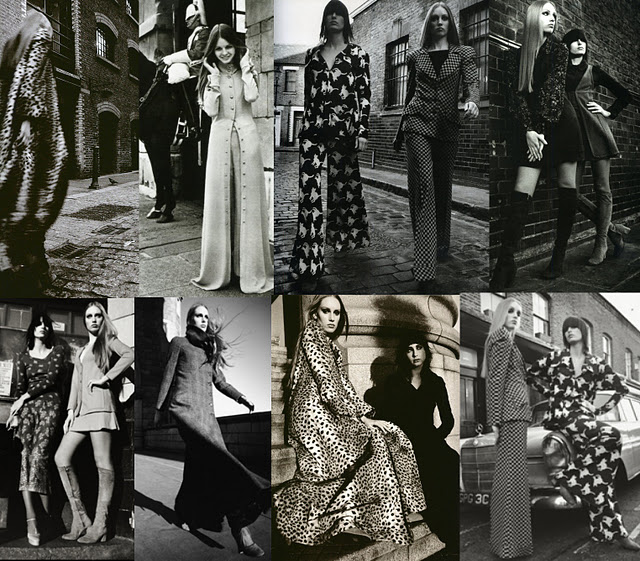 A musical play called "Biba: The Musical" based on the story of Hulanicki and the original company was in the works in